Eindhoven, the Netherlands - Philips brings its innovative Ambient Experience Design expertise and LED lighting solutions to support  the refurbishment of the Concert Hall Frits Philips Eindhoven (Muziekgebouw Frits Philips Eindhoven), the Netherlands. The Concert Hall reopens to the public on October 9, with a new top-class, memorable experience for music lovers.
When people go to a concert, they are influenced by much more than just the quality of the music they hear. The atmosphere in the Concert Hall's communal areas, the available facilities, the ease with which you find your way around; these, and many more issues, all play a role. With the aim of offering a world-class environment to match the quality of the existing concert halls and the performing artists, the Concert Hall Frits Philips has worked with Philips  to develop a vision for the concert hall to bring this vision to life.
 
In the role of art director Philips design consultants joined the creative team consisting of  Dutch designers Van Eijk & Van Der Lubbe, Hypsos, Rapenburg Plaza and visual artist Gerard Hadders, that translated the initial Ambient Experience concept into a brand new interior and exterior. The cooperation resulted in an exceptional composition of light, image and specially developed technology, where  illuminated pathways using the in-built ceiling LEDs from Philips, subtly guide people to the bar during the break. Three massive Italian chandeliers add a definite touch of grandeur to the ambience. And a purpose-built 13 meter-long couch, with integrated LEDs which illuminate a path between two people sitting at different points on it, playfully addressing the insight uncovered during research that a significant amount of visitors actually come alone.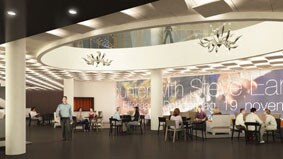 Only true user insights lead to meaningful design
Philips Ambient Experience Design aims to positively influence people's experiences through the application of light, images and sound. But, equally as important, Ambient Experience is always based on user insights. "Ambient Experience Design is not a prefixed concept or product that can be copied into an environment. What makes it distinctive and authentic is our methodology that allows us to get true user insights that are essential to design an environment that is innovative and meaningfull to the people using it," says Jos Stuyfzand, Director of Ambient Experience Design at Philips.
Ambient Experience Design builds on Philips' belief in taking the 'user' as the starting point in every project. "That was exactly what we were looking for," says Wim Vringer, Director of Concert Hall Frits Philips Eindhoven,  "We didn't want design for design's sake, we wanted people visiting the venue to have a top-class, memorable experience from start to finish," says Wim Vringer.
Partners in Innovation
The redesign of the Concert Hall Frits Philips Eindhoven is a great example of how the design consultancy services of Philips combined with Philips' lighting solutions can help customers create innovative, people-focused experiences. As stated by Wim Vringer, "In fact, thanks to the excellent cooperation between all collaborating parties involved, the result is a fundamentally changed venue improving the quality of experience for our visitors, regardless of the kind of concert they come to see."
Cooperating parties of the redesign of Concert Hall Frits Philips Eindhoven
• Concert Hall Frits Philips Eindhoven, ordering customer
• Philips, concept creation, art direction and lighting solutions
• Van Eijk&Van der Lubbe from Geldrop, total design and interior design
• Hypsos from Soesterberg, visual-, light-, and sound advise
• Rapenburg Plaza from Amsterdam, lighting design
• Gerard Hadders from Schiedam, graphical identity
________________________________________
Notes to the editor

Press event invitation
We invite journalists and editors of magazines to visit the press event on Monday 25 October in the Concert Hall Frits Philips Eindhoven, which includes a detailed guided tour and lunch. Please contact miep.swaminathan@philips.com if you would like to attend.

12.00h - Reception
12.30h - Guided tour
13.30h - Lunch