Eindhoven, The Netherlands – Royal Philips Electronics (NYSE: PHG, AEX: PHI) has won two Australian International Design Awards 2012 for the Philips Sonicare DiamondClean and the Philips QuickClean Juicer*. 
"We are very proud to have been awarded these accolades from Good Design Australia. The products are aesthetically beautiful as well high performing in terms of their function. Both were designed with a great deal of attention paid to style and intuitive use and it is good to see all these efforts rewarded in this way," says Sean Carney, Chief Design Officer for Philips.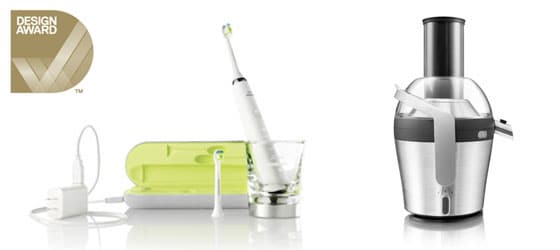 The Philips Sonicare DiamondClean was designed to bring sophistication and beauty in the ultimate simplicity. The aim was to transform a high-performance electric toothbrush into something beautiful as well as highly intuitive to use. Many aspects of the Sonicare DiamondClean are truly innovative and unique, including the glass charging unit, the USB travel case and the white LED interface. Read more about designing the Sonicare DiamondClean and its unique features here. 
Good Design Australia official judges comment on the Sonicare DiamondClean: "A new product category done really well. Surprising functionality and well suited to the market."
Download: high-res image
Find out more about: Philips Sonicare DiamondClean (HX9332)
The Philips QuickClean Juicer combines versatile features and easy-to-clean parts with a sensual yet sophisticated silhouette. This stainless steel juicer is an intuitive, high-performance tool that also looks good on kitchen counters. The innovative juice extraction system extracts up to 10% more juice, and the new inverted sieve forces the pulp downwards and the juice upwards onto the domed transparent lid to create an attractive visual impression when the juice is being made.
Good Design Australia official judges comment on the QuickClean Juicer: "Wonderful user experience with few parts to clean. A welcome relief to the complexity of its nearest competitors."
Download: high-res image
Find out more about: Philips QuickClean Juicer (HR1871/00)
* The Philips QuickClean Juicer is also known as the Avance Collection Juicer in other countries
About the Australian International Designs Awards
Presented by Good Design Australia, the Australian International Design Awards is Australia's longest-running design recognition program. The Design Award logo is an independent symbol of design excellence. It represents that the design has been assessed by an independent panel of Australian and international design experts who recommend that Good Design Australia endorse it as an example of design excellence. Each entry is assessed against a common a set of criteria focussing on innovation, form, function, quality, safety and sustainability. Where possible, products were used as they were intended, played with, pulled apart and reassembled to create an accurate user experience and understand the design qualities.