Eindhoven, the Netherlands - Royal Philips Electronics (NYSE: PHG, AEX: PHI) is proud to have been chosen by the jury of the Goed Industrieel Ontwerp awards (GIO-awards) to receive the Special Award for Excellence in the category 'Respect' for its Fight Malnutrition design project. In addition to this Special Award for Excellence, Philips was honored to receive 25 GIO recognitions for Good Industrial Design, reflecting innovative products across the Philips portfolio.

Fight Malnutrition
Malnutrition is considered one of the key challenges for the health of children across the world. The World Health Organization estimates that approximately 150 million children under 5 years in developing countries (26.7%) are malnourished. An additional 200 million children have stunted height. The project aimed to develop cost-effective tools to empower non-professional healthcare workers to detect and measure malnutrition and help families to address key aspects of monitoring and education about malnutrition.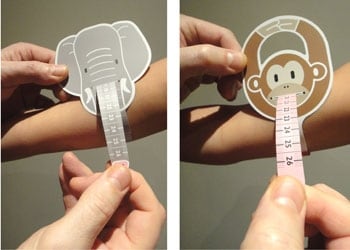 The concepts developed are related to easy-to-use measurement tools, growth charts and monitoring malnutrition at home.
Simona Rocchi, Sr. Director Design for Sustainability Studies at Philips Design ads:
 "We are honored to receive this special recognition from GIO. It strengthens us in our efforts to develop relevant, context-specific design solutions for monitoring malnutrition in collaboration with NGOs Save the Children, Real Medicine Foundation and local healthcare workers. This project is part of Philips' Philanthropy by Design program which helps us to explore ways to support social innovation".
The jury of GIO 2012 stated that they really value Philips Design donating its creativity to address societal challenges via the 7-year running Philanthropy by Design program: "With the Fight Malnutrition project Philips Design truly shows their continuous commitment to share their creativity and co-create practical solutions."
Read more about the Fight Malnutrition project here. 
25 Good Design Recognitions
Innovative solutions across the Philips portfolio of Healthcare, Lighting and Consumer Lifestyle were recognized for their Good Industrial Design by the GIO jury. Click here to view an overview of all the recognized  Philips products or download the high resolution images here.
 
Recognition Good Industrial Design
Good Industrial Design (Goed Industrieel Ontwerp or GIO) Recognition is an independent prize, funded by a chain of representative profession- and branche organizations, knowledge and educational institutes and intermediates. For more information please visit: www.gio.designlink.nl/