Eindhoven, the Netherlands - Royal Philips Electronics (NYSE: PHG, AEX: PHI) is honored to have been chosen by the jury of the Successful Design Awards-China to receive the Platinum Award for the Philips Soundbar Home Cinema Speakers for Android . Philips is proud to receive a total of seven Successful Design Awards China for innovative products across our Consumer Lifestyle and Lighting portfolio.
Designed to bring the luxury of a cinema into the home
Sean Carney, Chief Design Officer at Philips: "China is a very important market for Philips, so it's a tremendous honor that the jury of Successful Design Awards-China granted us this Platinum Award for the world's first ever soundbar  that can seamlessly stream movies directly from a tablet to the TV."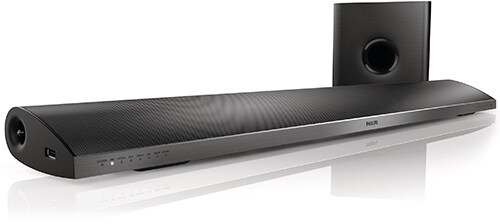 The winning Soundbar Home Cinema Speakers allow you to release all content stored in an Android tablet, Android smartphone or PC - like movies, music or games - from any DLNA-enabled device with SimplyShare and the built in Wi-Fi functionality and enjoy them on the big screen of your TV. Thanks to the integrated smart media player, you can also hook up a portable hard drive or thumb drive to enjoy your media files.
Equipped with virtual surround sound technology, you're guaranteed a realistic movie experience so you can lose yourself in the action.
The Soundbar is designed to fit any modern room décor and it is so thin it can simply be placed in front of the TV without blocking the picture. The speakers can be angled upwards with the built-in metal stand for an even better sound experience.The extruded aluminum and full metal speaker mesh construction gives this soundbar its unique look.
A total of seven Philips designs awarded
A total of seven innovative product and packaging designs across the Philips Consumer Lifestyle and Lighting portfolio received a Successful Design Award China 2012. Click here to view an overview of all the awarded  Philips products or download the high resolution images here. 
Successful Design Awards China
Successful Design Awards China seeks to honor the top international designers and enterprises for their designs that are most successful in the Chinese market. Designs are judged by looking at an all-encompassing view of the design from its conception to its commercial outcome. The competition is organized by the Shanghai Industrial Design Association and the Shanghai Creative Industry Center.