In critical care environments such as Emergency Departments, fast, accurate diagnosis of disease or injury followed by rapid therapeutic intervention can mean the difference between life and death. Doctors operating in such environments frequently have to make crucial decisions in a very short space of time. All too often, however, they have to do so without the benefit of laboratory-based tests to identify specific indicators of disease (known as biomarkers) in tissue or blood to support their diagnoses. The reason being that these tests take too long. Instead, physicians have to rely on past experience to make an educated guess about what the problem is. There is therefore a real need for time-critical biomarker testing in order to speed up patient triage and treatment, and thereby improve patient outcomes. Quick diagnosis is also more reassuring for patients.
While some biomarkers of disease, such as body temperature and blood glucose level, are easily measured, many biomarkers appear in the bloodstream only at extremely low concentrations (typically one part per trillion) and currently can only be detected and quantitatively measured in the laboratory. These laboratory tests require a blood or tissue sample to be taken and incur 'time-to-result' times of between 30 and 60 minutes.
Point-of-care testing
The automated handheld diagnostic systems that will be jointly developed by Philips and bioMérieux aim to reduce the 'time-to-result' to 5 to 10 minutes. They will do so by speeding up the biomarker detection/measurement process (known as the 'assay') and by allowing specific biomarker tests to be performed at the point-of-care i.e. close to the patient and most probably during the first patient-physician interaction.
A point-of-care test is a test performed and interpreted at the point where and when it will be used to make a clinical decision – i.e. in close proximity to the patient rather than in a centralized laboratory. The person performing the test typically is not a laboratory specialist, but for example a physician or a nurse. Key success factors for new point-of-care tests include the analytical performance (which should be as good as laboratory results), the ease of use, and the connectivity to the hospital IT infrastructure (to access the additional patient data needed for fast clinical decision making).
Philips and bioMérieux create synergy by combining bioMérieux's advanced biomarker assay biology with Philips' Magnotech platform, which employs a new technology based on magnetic nanoparticles to automate and miniaturize biomarker diagnostics. Philips' Magnotech biosensor platform has been shown to have the potential to match the analytical performance of laboratory systems in terms of accuracy and sensitivity, representing a significant breakthrough in point-of-care testing. In addition, one of the most important features of these new handheld tests is that they are being designed for use by a range of healthcare professionals, including physicians, nurses and paramedics, using relatively small fluid samples – for example, a drop of blood.
The objective of Philips and bioMérieux is to integrate the handheld diagnostic tests seamlessly into clinical workflows and to feed the acquired data into hospital information systems. In the longer term, both companies envision that all the different testing stations – both conventional systems in central laboratories and these new mobile handheld systems – will be part of a diagnostic network, using wireless connectivity and sophisticated healthcare informatics solutions to acquire, analyze, interpret and present data.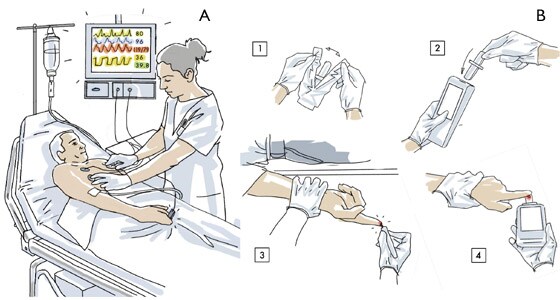 Figure 1 (A-D): In critical-care settings, such as Emergency Departments within hospitals (step A), there is a persistent clinical need for diagnostic solutions that enable fast and accurate patient triage – for example, diagnosing acute coronary syndromes (i.e. a heart attack). To this end, Philips and bioMérieux will be developing fully automated handheld diagnostic test devices designed for testing at the point-of-care (steps B and C).  They are intended to assist clinicians in time-critical decision-making, for example, to decide whether an obstructed coronary artery needs to be opened in a catheterization laboratory (cathlab, step D).
Natural synergy
Development of these new point-of-care diagnostic solutions leverages Philips' existing expertise in critical-care environments – for example, its expertise in patient-monitoring, defibrillation, clinical decision support and healthcare informatics. For Philips it is therefore a natural extension of that expertise into other phases of the care cycle, reinforcing the company's holistic care cycle approach. Philips' current portfolio includes a full range of diagnostic tools (e.g. medical imaging, ECG, and vital function monitoring) to support healthcare providers in identifying high-risk cardiac patients during the early stages of diagnosis.
The critical contribution of bioMérieux is its expertise in the development of biological assays and its extensive knowledge of cardiovascular and infectious disease markers. bioMérieux has a strong experience working closely with biologists and a global presence in labs, with an installed base of over 54,000 diagnostic platforms. As a leading global diagnostics company, it is only natural for bioMérieux to expand its business to meet unmet diagnostic needs. bioMérieux is already recognized among clinicians for its high medical value tests for evidence-based treatment decisions, which include the VIDAS range of cardiac emergency markers: Troponin I Ultra, Myoglobin, CK-MB, D-Dimer and NT-proBNP.