Meet Eva. She's a heart-failure patient. When you have heart failure, your heart is no longer able to pump enough blood through your body. This may be caused by a heart attack or some other form of heart disease.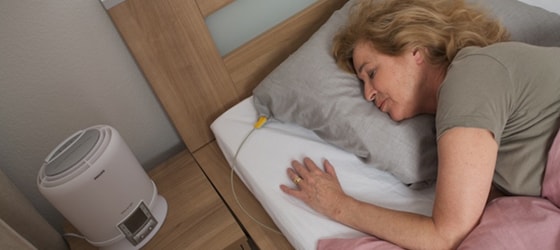 Unfortunately, heart-failure patients are at serious risk of suffering what is known as "decompensation". This causes a rapid, life-threatening deterioration of their condition. As a result, they need to be admitted to hospital.
If decompensation can be detected at an early stage, doctors can stabilize the patient's condition by adjusting their medication. This not only avoids the need for hospitalization, but it can also increase the patient's quality of life. However, in many cases, decompensation remains undetected until the patient suffers noticeable symptoms and has to visit a doctor.
Like Philips' current home telehealth solutions for heart failure patients, where a patient's health status can be monitored daily at home, Philips Research is developing an advanced heart-failure management system that will provide more comprehensive information about a patient's condition and may enable earlier intervention. This new heart failure management system consists among others of a wearable textile vest with embedded electrodes that monitor a patient's vital body signs daily.
Philips Research is currently investigating whether specific trends in the measured vital signs are early markers for decompensation and whether the system is capable of recognizing these trends to warn doctors of the onset of decompensation several days in advance. Advance warning gives doctors time to adjust the patients' drug regime and stabilize their condition before any symptoms appear, reducing the need for hospital admissions.
As part of the EU-funded MyHeart research project, Philips Research is currently conducting these studies using prototype devices on 150 patients in six European cities.
How does the experimental system work? While Eva is asleep at night, her breathing rate and heart-rate are measured by unobtrusive sensors hidden in her normal bed.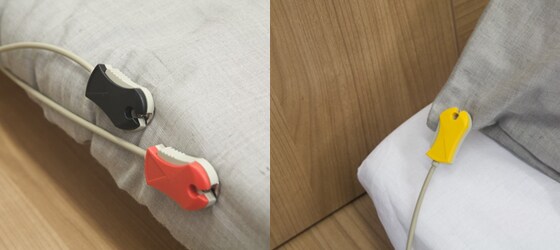 When she wakes up in the morning, she puts on a vest containing sensors and woven-in electrodes. This measures the average heart rate and the thoracic impedance. An indication of the composition of the upper body can be estimated by an electrical resistance (thoracic impedance) measurement. Increased water in the lungs (a frequent sign of an upcoming decompensation) can lead to a decrease in the electrical resistance of the upper body as water conducts electricity.*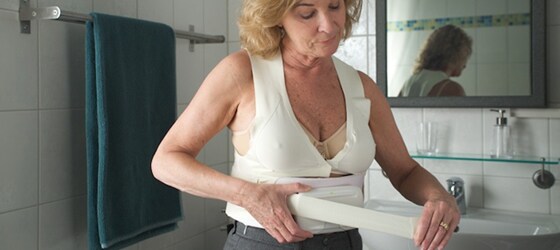 Eva then weighs herself on an electronic scale, and then takes her blood pressure.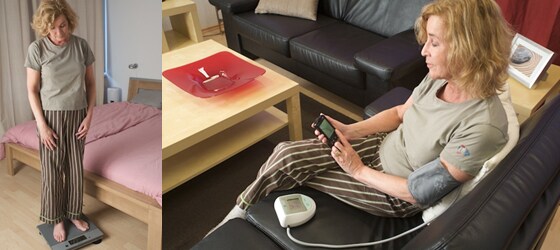 All these devices communicate wirelessly with a PDA that collects and analyzes the data. The information about her health status is then sent automatically to her healthcare provider. If the results indicate any change for the worse, the doctor will have time to adjust her treatment. With this technology, Philips aims to improve the personal care of people with heart disease, and to contain the overall cost of healthcare.
* De Lorenzo, A., A. Andreoli, et al. (1997). "Predicting body cell mass with bioimpedance by using theoretical methods: a technological review." Journal of Applied Physiology 82(5): 1542-1558;  Moissl, U., Wabel P., Leonhardt S., Isermann R. (2004). "Modellbasierte Analyse von Bioimpedanz-Verfahren (Model-based Analysis of Bioimpedance Methods)" Automatisierungstechnik 52(6): 270-279.