Schiphol teams up with Philips to improve passenger well-being and airline efficiency
Imagine you have a few hours to spare before an appointment. What do you do? Maybe go to the park if it's sunny, read a book or just watch the world go by?
Wouldn't it be great if, when you're waiting for a flight, you could have a similarly relaxing time at the airport? Imagine if, before you even got on your flight, and were calmly guided through the entire boarding process in a relaxing and hassle-free manner. And wouldn't it be even better if, once you arrive in the waiting area, you're provided with the facilities to work, relax – even already get connected to your destination?
This is no longer just wishful thinking. if you find yourself boarding from the G7 gate at Amsterdam Airport Schiphol, that's exactly what you'll experience.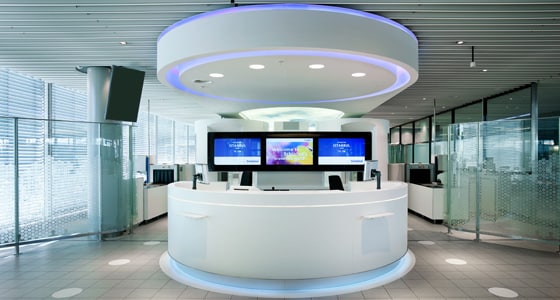 Enhanced well-being
It's the belief that the time we spend in airports should have a more positive impact on our well-being that inspired Amsterdam Airport Schiphol – one of the world's most innovative airports – to ask Philips to help it revamp its G7 departure gate. After testing some gate improvements, the combined innovation support of Philips Design and Philips Applied Technologies has made it possible for Schiphol to take a giant leap forward in terms of the design of its airport gates by combining its people insight with innovation services and solutions such as LED-lighting and multimedia. If you take a tour of the innovative new G7 gate today, what you'll experience is something that is much more pleasurable and relaxing than your average departure gate experience. The new gate also helps airlines speed up the security and check-in processes as well as boost their brand image.
Ambient Experience
In creating the new G7 departure gate, staff from Schiphol and Schiphol partners worked closely together with a multidisciplinary team of experts from Philips Applied Technologies and Philips Design in the spirit of Open Innovation. The starting point for the innovation process was Philips' extensive experience of creating environments – or "ambient experiences" – that have a positive impact on people's health and well-being.
For example, Philips has created an Ambient Experience MRI Scanning Suite for hospitals. Patients can personalize the surroundings of a treatment room, wrapping themselves in a relaxing video ambience. When patients gain a sense of control, they become more at ease with the proceedings. An innovative solution that has enhanced workflow and reduced the numbers of children requiring sedation during treatment. 
More recently, Philips extended its Ambient Experience concept to create a restful environment for business travelers. At CitizenM hotels, guests can personalize the atmosphere in their room with light, sound and video images. This creative solution has been a big success: when people work and relax in an environment that pleases them, they're more productive and get a better night's sleep. Moreover they have the perception of staying in a luxury hotel while only paying a mid-segment hotel fee.
Co-creating the concept
Amsterdam Airport Schiphol researches the quality perception of passengers and airlines on a regular basis. Philips combined the results of this research with the insights and aspirations discovered during an additional people insight generation and analysis phase where passengers, airport and airline staff were interviewed. Then people from Schiphol partners together with Philips Design and Philips Applied Technologies co-created a completely new scenario for the gate – one that harnessed the design skills and innovation know-how of the entire Philips organization and incorporated their years of research into disciplines ranging from psychology to cultural sociology and anthropology.
Partners in Open Innovation
The development of the new G7 departure gate is a great example of how the innovation services of Philips Applied Technologies and Philips Design combined with product solutions from Philips Lighting and Philips Consumer Lifestyle (particularly those focused on LED lighting and multimedia) can quickly help customers realize their innovation concepts. In fact, thanks to the excellent cooperation between all parties, the entire project took just nine months from the idea to the realization of the concept!
For the Schiphol project, the lead providers of Philips' innovation services were:
Philips Design
Philips Design is one of the leading design forces in the world today. By providing design solutions that harness technology to improve the quality of people's lives, it creates value for customers both inside and outside Philips. In addition to conventional design-related skills, the multinational workforce embraces various disciplines such as psychology, cultural sociology, anthropology and trend research. Philips Design offers a full range of design services to many different types of clients both within and outside the Royal Philips Electronics organization.  www.design.philips.com
About Philips Applied Technologies
Philips Applied Technologies, part of Royal Philips Electronics, provides contract innovation services. Its innovation support is highly practical in nature and covers three aims: to accelerate the time-to-market of innovative ideas; to improve process efficiency; and to solve complex operational problems. Philips Applied Technologies' customers are market leaders, fast growing companies and start-ups. For every phase of the innovation process, it offers integral solutions, consultancy and specialist services. With over 850 in-house experts, 60 competences and more than 40 years of innovation experience with customers inside and outside Philips, it provides the appropriate skill set in each phase of an innovation process, from idea to market.
www.apptech.philips.com