Spinal injuries – a common but costly health issue 
Experts estimate that as many as 80 percent of us will experience a back problem at some time in our lives1. Back pain is one of the most common causes of days off work and is second only to the common cold as the reason for a visit to the doctor2. Most back pain cases are mechanical or non-organic, meaning they are not caused by serious conditions such as inflammatory arthritis, infection, fracture or cancer.
 
Motor vehicle accidents are the leading cause of spinal cord injuries (41 percent), followed by falls (27 percent), acts of violence (15 percent) and sports (8 percent) with 2 percent of spinal cord injuries having other causes. The average age at injury is 40.2 years and after the age of 45, falls overtake motor accidents as the leading cause of spinal injury3.
 
Americans spend at least $85 billion each year on back pain4 and Europeans spend between €116 and €399 per head per year on low back pain5. Although spine care is mostly carried out in an outpatient setting, it is highly fragmented with a lack of follow up and high patient care costs. These costs look set to accumulate as an ageing population and new technology and therapy options result in more patient visits for spine treatment.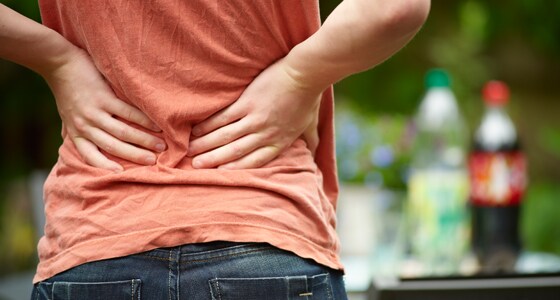 Types of Spinal Injury
The majority of spinal cord injuries are seen in the cervical spine (neck), followed by the thoracic (chest spine) and the lumbar spine (low back). Spine injuries do not necessarily injure the spinal cord. Sports accidents, for example, may cause only temporary loss of function and 'whiplash' of the neck, commonly caused by traffic accidents, may cause soft tissue injury, disc displacement and some bruising to the spinal cord without otherwise injuring the cord.
 
Lower back pain is classified according to duration: acute (symptoms last from a few days to a few weeks) or chronic (pain persisting for more than three months). Lower back pain can be caused by poor techniques for lifting objects, causing strain to the back muscles and ligaments or even rupturing a disc (the 'shock absorbers' in the spinal column).

Degenerative conditions such as arthritis or osteoporosis can cause lower back pain and  weight gain (including pregnancy), poor posture and sedentary lifestyles can also contribute6.
 
The Role of Spine Centers
The majority of spine care is non-surgical but constant referrals and waiting time adds up to a frustrating experience for patients and accumulating healthcare costs.
 
The spine center model as developed by SpineMark concentrates a multidisciplinary team of spine specialists in one location and supports them with the technology required to develop and deliver a comprehensive spine care treatment plan. In the SpineMark Spine Center of Excellence, a 'nurse navigator' co-ordinates the efforts of the spine care team and guide patients to the right specialists at the right time, reducing waiting time and frustration.
 
Not only are patients more satisfied with their spine care experience but the spine center allows improved collaboration among the care givers resulting in more efficient patient care and lower operating costs. The operational transparency and clear tracking of outcomes available through spine centers makes it easy to measure success which can both attract new sources of referrals and make the center a showcase site for research and technology.
 
Philips provides SpineMark with an Integrated Solution for Spine Centers 
As a partner in healthcare, Philips provides a unique, integrated solution for SpineMark's spine centers to improve the patient experience as a whole and simplify healthcare delivery. The complete Philips offering will draw on the company's expertise in healthcare, lighting and design to provide SpineMark's Spine Centers of Excellence with:
 
Advanced healthcare imaging equipment
Healthcare IT solutions to ensure efficient workflow and effective communications among spine specialists and with patients
Training programs for physicians and nurses
Design solutions to streamline the workflow and create a pleasant environment for staff and patients
Innovative lighting solutions which are energy efficient and improve productivity by creating a stimulating workplace

Imaging equipment is used in spine centers to make detailed images of soft tissues and bones and is essential in detecting the root cause of back pain and in checking the results of surgery and other treatment.
 
Philips will provide a range of imaging solutions including X-ray, MR (magnetic resonance) and CT (computed tomography). X-ray equipment is used to identify fractures, evidence of tumours or infection and degenerative change. MR (magnetic resonance) is used to image many parts of the spine such as discs, facet joints, spinal nerves, cysts and other structures. MRI (magnetic resonance imaging) provides good soft tissue imaging and allows images from more views than traditional x-rays. CT provides very good bone images and also gives a good view of most soft tissues.
 
Spine centers require effective IT solutions to ensure an efficient workflow in the spine center (e.g. scheduling, data transfer), to communicate with patients outside the center at various stages of their treatment and to build a referral network of spine specialists around the center.
 
Philips' Patient Care and Clinical Informatics will support the IT needs of SpineMark spine centers at all three levels by presenting the right information at the right time to the right people. Philips will provide a suite of IT solutions to streamline workflow, improve organizational efficiency and manage the data generated by imaging systems while interfacing seamlessly with other hospital information systems.
 
Furthermore, Philips will equip SpineMark's spine centers with energy-efficient LED and Dynamic Lighting solutions which will improve productivity among staff members while also creating a relaxed and positive environment for the patients.
 
Philips will provide a full range of LED lighting solutions adapted to different tasks which can provide flexible, motivational workspaces for different tasks such as computer use, meetings or patient examinations. These energy-efficient LED lighting solutions can also reduce energy consumption by more than 50 percent compared with conventional lighting.
 
In addition, Philips' Dynamic Lighting solutions will adjust the level and colour temperature of lighting (using combinations of cool or warm white light) to stimulate or relax staff and patients at different times of the day. By matching lighting rhythms to our natural daily rhythms, Dynamic Lighting can raise energy levels, improve concentration or provide time to recharge thus promoting the well-being of spine center staff and patients.