Guiyang, China – Royal Philips Electronics (AEX: PHI, NYSE: PHG)  to participate in the 1000-Village Solar LED program, an initiative launched by The Climate Group and the One Foundation to provide rural communities in China with energy-efficient solar-powered LED lighting.
Philips' involvement in the program was formally launched as part of a Climate Group event at Xiao Xi Chong, one of 13 villages in the region around Guiyang City where the project is working. The event was attended by Tony Blair, the former British Prime Minister and a leading associate of The Climate Group, Changhua Wu, the Director of The Climate Group Greater China, Weixiang Yu, vice-mayor of Guiyang, and Liangqi Lin, general manager of Philips Lighting Greater China.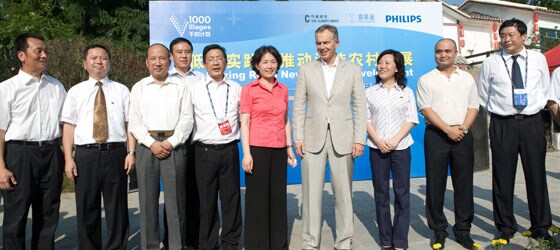 Initiated in August 2009 in Guiyang City, the 1000-Village Program aims to explore the large-scale application and promotion of clean technology in rural areas, covering operational aspects, environmental policy and technology solutions. It's five-year objective is to promote clean technology projects in 1000 villages in China and other countries, with a short-term target of LED lighting solutions in over 40 administrative villages in rural areas of China within its first year.
During the event, which also marked the first year of the 1000-Village Program and its focus on 'mobilizing rural new energy development', Ms. Wu Changhua, Director of the Climate Group Greater China said: "The first phase of the 1000-Village Program, the demonstration of solar LED lighting technology, has been successfully completed. 40 administrative villages have taken part in the program, including sunlight-deficient areas such as Chongqing, Chengdu and Guiyang."
Ms. Changhua adds: "Over the last year, The Climate Group has proved how valuable solar LED lighting is for rural areas of China, as it requires no cabling. What's more is that it helps enhance social communication and cultural activities in rural areas by improving public lighting. This is an excellent example of a clean technology that not only reduces costs and greenhouse gas emissions, but also enhances people's way and quality of life."
Philips' involvement in the project provides further opportunity to simply enhance life with light with the application of innovative LED lighting solutions. As an official partner in the program, Philips has donated a range of lighting systems, including customized intelligent solar LED road lamp in Guiyang which combines light control with time control to optimize the harnessing of sunlight during overcast and rainy days in the area.
Mr. Liangqi Lin, general manager of Philips Lighting Greater China stated: "We hope that solar LED lighting can be recognized and applied more widely through our involvement in this program and its efforts to demonstrate how reduce the cost and impact of greenhouse gas emissions. As the global leader in the lighting industry, Philips is committed to promoting the green switch in all areas of the society. Thanks to the 1000-Village Project, Philips is able to enhance villagers' life quality through excellent, energy-efficient lighting and explore further sustainable rural development as part of a greater contribution to the full realization of low-carbon society and new village construction."