Eindhoven, The Netherlands - At an awards ceremony in Shanghai yesterday, Royal Philips (NYSE: PHG, AEX: PHI) received eight Successful Design Awards China 2013, with healthcare designs dominating the wins.
For details and images of all the Philips winners click here.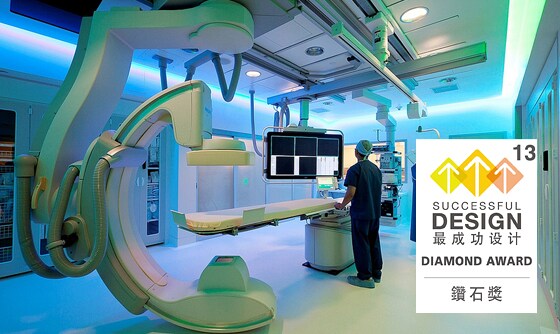 Five healthcare designs were selected for awards, with the highest honor of the 'Diamond Award' going to the Philips Ambient Experience Electro Physiology Lab. This state-of-the-art electrophysiology suite features Ambient Experience, a design approach pioneered by Philips in healthcare that helps patients relax and clinical staff to work more efficiently.
"Ambient Experience transforms clinical settings to create a better experience for patients and staff", explains Sean Hughes, Chief Design Officer for Philips Healthcare. "Through our understanding of the clinical workflow, technical equipment and our design expertise we deliver a patient-centered environment that is a more effective workplace for clinicians, enhancing both productivity and patient experience through design."
Another Ambient Experience product, the Hybrid Operating Room also received an award, as well the HeartStart FR3 defibrillator, the TrueBlue CPAP gel cushion mask and the SimplyGo portable oxygen concentrator.
For Lighting, the Lirio by Philips Nick-Knack was awarded – a flexible simple floor lamp that offers many possibilities for lighting and styling the home.

Two Consumer Lifestyle products designed specifically for the Chinese market were also awarded - the GC400 series CompactTouch Garment Steamer and the RQ370 Two Headed Rotary Shaver, which was given additional recognition with a special 'Most Successful Design Award'.
"This is a great success for us in China", says Sean Carney, Chief Design Officer for Philips. "It is good to see products we designed specifically for the Chinese market recognized in this way. And overall these awards are an affirmation of our people-focused approach to design to create meaningful products and solutions."
For details and images of all the Philips winners click here.

About the Successful Design Awards China
Successful Design Awards China seeks to honor the top international designers and enterprises for their designs that are most successful in the Chinese market. Designs are judged by looking at an all-encompassing view of the design from its conception to its commercial outcome. The competition is organized by the Shanghai Industrial Design Association and the Shanghai Creative Industry Center.
From all the designs winning a 'Successful Design Award' the jury recognizes the top 15 with the following special awards in descending order: Diamond Award (1), Platinum Award (2), Gold Award (2), Most Successful Design Award (10).